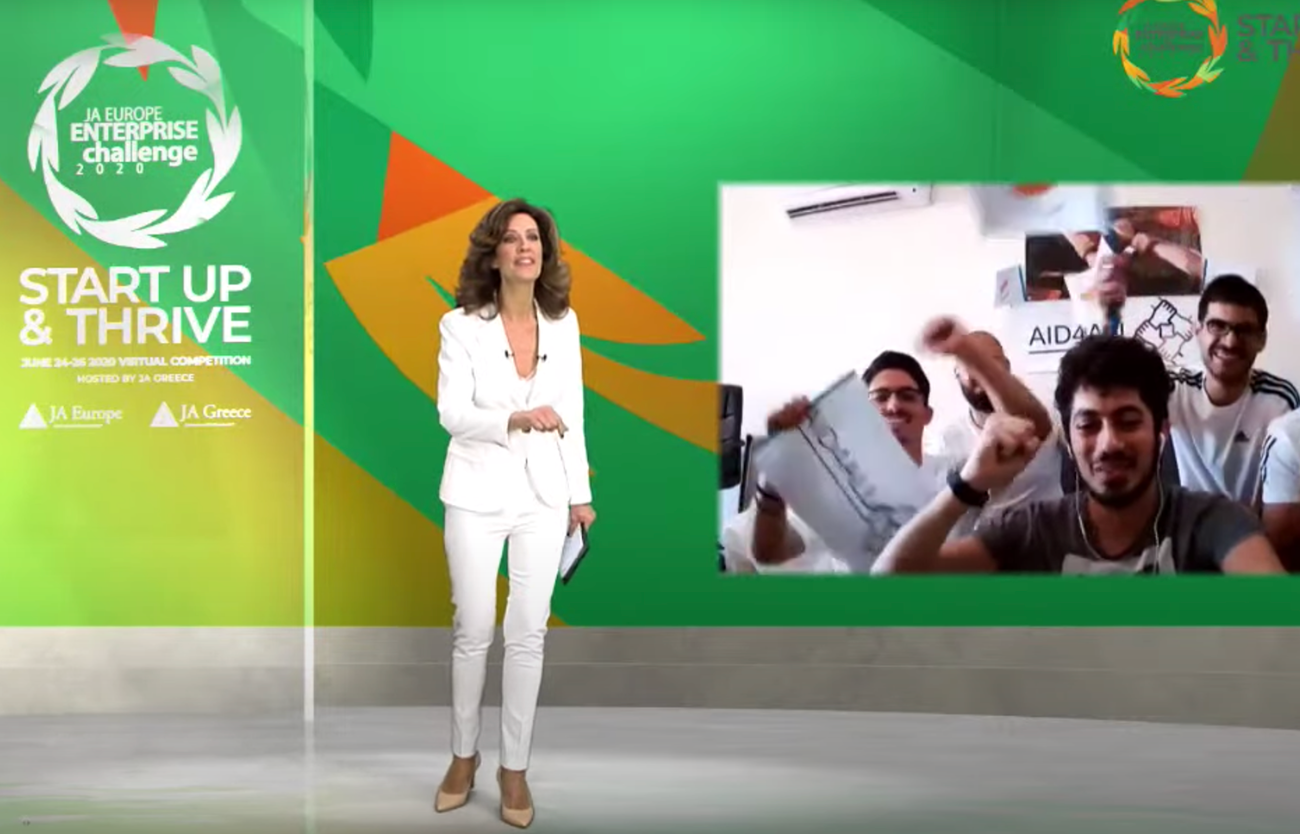 JA Europe Enterprise Challenge 2020
The Main Jury picked the Start Up AID4ALL as the winner of the "JA Europe Enterprise of the Year" Award. The students from Cyprus set up a business to find solutions for people with disabilities, offering a product that aims at compensating hearing loss with the sense of touch. Team MIZED from Portugal making customised protections for athletes was awarded 2nd place in the European competition, while team Stiles from Malta producing environmentally sustainable décor tiles won the 3rd place.
The European final was a virtual competition between 18 finalist teams from 17 European countries who pitched their businesses to an international Jury through company reports, live interviews and video commercials. Chair Judge Emilios Kyriacou, Citi Country Officer Greece, Cyprus & Malta and Corporate Bank Head Greece, praised the high quality of this year's competitors who had to work in very challenging conditions throughout the school year: "I would like to thank and congratulate on behalf of the main Jury and myself all the brilliant young minds we met this week for their participation and their quest for entrepreneurial excellence and discovery. I certainly leave today encouraged by the calibre and quality of participations, which I consider a precursor for a better economic future for Europe."
Creating a viable business to address ecological and societal problems, leveraging technology and A.I. to improve processes and enhance efficiency, bringing solutions to the health care sector and agriculture – this year's finalists in JA Europe Enterprise Challenge showed an impressive range of entrepreneurial ideas put into practice! There is no doubt that the seeds for future entrepreneurial success of young Europeans have been planted in the many Universities offering the JA Start Up Programme.
Speaking at the virtual Award Ceremony, Mariya Gabriel – European Commissioner for Innovation, Research, Culture, Education and Youth – stated that "the Covid-19 crisis reminds us that we need entrepreneurship, creativity and resilience more than ever." Martina Dlabajova, Member of the European Parliament, furthermore emphasised that "entrepreneurs are not born, they are built"; adding that entrepreneurs are individuals that "think outside the Box".
Adam Warby, Chairman of JA Europe, told participants in this year's competition: "I'm extremely proud of all of you for the excellent innovation and entrepreneurial mind-sets that you've showcased, not only in this competition but throughout the past school year. I'd also like to thank all the teachers and professors who have accompanied you on this journey to digitalise your education experience".
"Today more than ever, we must ensure that young people are equipped with the right skills to succeed in the economy and to tackle the greatest challenges of our times. Through the JA Start Up Programme, they gain an understanding of self-employment, business creation and risk-taking – but more importantly also the ability to cope with adversity, all with the support of experienced business volunteers", added Salvatore Nigro, CEO of JA Europe.
Despite the school closures and Covid-19 pandemic, over 17,000 young Europeans completed the JA Start Up Programme in the 2019-20 academic year, and the winners from each participating country competed in this week's JA Europe Enterprise Challenge. If you would like to know more about the programme in your country, the local JA office will be happy to hear from you!
JA Europe Enterprise of the Year Award 2020
The three best Start Up companies in the JA Europe Enterprise Challenge are awarded 1st, 2nd and 3rd place in the competition. The winners are the highest scoring student companies according to the competition criteria. The Jury pays particular attention to the value (financial, social or cultural) each Start Up is creating and its potential to grow.
1st place: AID4ALL, Cyprus
2nd place: MIZED, Portugal
3rd place: Stiles, Malta
Public Choice Award 2020
The Public Choice Award seeks to make students learn how to market their product or service in order to gain votes. All student Start Up teams competing in the JA Europe Enterprise Challenge had a profile on the event website with a "vote" button, and the Start Up collecting the highest number of votes wins the Public Choice Award.
Winner: AID4ALL, Cyprus
JA Alumni Leadership Award 2020
The Alumni Leadership Award is awarded to individuals who demonstrate outstanding leadership skills, which impact their team and the JA company. With this award, JA Alumni Europe wishes to recognise and honour the personal strength of the individuals in a successful team. Furthermore, the award aims to bring renewed attention and visibility to the alumni network and the importance of sustaining the passion for entrepreneurship, and staying connected, even after a JA Europe programme has come to an end.
Winners:
ANTONIS Faros (Greece)
CHRISTIANNA Georgouli (Greece)
Daniel Jennings (United Kingdom)
Pauline Lacherade (France)
Martynas Žiūrys (Lithuania)
European Signature Awards
Avanade Digital Innovation Award 2020
The Avanade Digital Innovation Signature Award recognises the young entrepreneurs who were best able to put their digital skills into practice to conceive an innovative business idea or concept. In addition to having an excellent business plan the start-ups was judged on their ability to demonstrate the most creative use of digital innovations such as, mobility, collaboration tools, cloud-based technology, machine learning, artificial intelligent, Internet of Things (IoT) and blockchain, in their products or services.
Winner: Dr. IV, Greece
The Microsoft JA Tech for the Future Award 2020
The JA Tech for the Future Award recognises the efforts of a JA Start Up company that features strong gender diversity in terms of team members and demonstrates the best forward-looking technology driven concept, with strong business potential and sustainability, as well as viability and scalability.
Winner: WHISP, Bulgaria
National Signature Awards
The Citi Sustainable Solutions Award
The Citi Sustainable Solutions Award recognizes youth entrepreneurs who have incorporated sustainability strategies and practices aimed at environmental and social progress that creates positive community impact into their business practices.
Winner: Shampop, Belgium (VLAJO vzw)
The MetLife Customer Focus Award
The award recognizes the student company that demonstrates the best technology-driven concept, with strong business potential and sustainability as well as viability and scalability.
Winner: PureWorld, UK
About JA Start Up Programme
"JA Start Up" is a Junior Achievement Europe educational programme promoting innovation and entrepreneurship, and is available at over 500 higher education institutions across Europe, with 17,000 students participating every year. Supporting European goals of improving youth employability and the start-up ecosystem, the programme fosters key competences to ensure that young people are prepared for success after university.
Moving from ideas to action, students gain crucial insights into self-employment, business creation, risk-taking and coping with adversity with the support of specially trained teachers and mentorship of business volunteers. The long-term success can be seen through the countless Alumni who continue to grow their innovations and ideas after the programme's completion, turning them into sustainable businesses.